Four Pillar / Ba Zi (Chinese Astrology) Analysis
Three easy steps to an online analysis

Step one
After reading the terms and conditions, you can click on the Paypal icon to make your payment.

Step two
After the payment, you will be brought to a page with a form which you will fill in your details and questions. Fill in your questions and details and submit the form.

Step Three
Master Chuan will revert in 2 working days for your readings and you will be able to download your readings for viewing or listening.

Terms and Conditions for Online Four Pillar Analysis

Each reading is only limited to a maximum of 3 specific questions.
Each person is only entitled to one reading per month at this discounted price. Direct engagement with Master Chuan for a full Four Pillar Life Analysis will be available by appointment at SGD$100
Please be as specific as possible for your question. If you have supporting questions that will help to clarify your original question, you may add them in your comments section.
Other than the reply that will be sent to you, there will only be a maximum of one more free additional followup reply via email. Any further emails after that followup will be chargeable at additional SGD$10 per question.
Master Chuan will send you a link to download the files that has been prepared for you and you will have to download them within 7 days. After which the files in the link will be automatically deleted.
When you ask the question, it will be good if you can provide some details of the situation that you are in which is related to the question you are asking. This will greatly help in the analysis and interpretation of the cards.
As there are many requests that Master Chuan needs to process due to the current promotion, please give about 2 working days for Master Chuan to reply to you.
Direct question for asking of special numbers for gambling and lottery will not be entertained. This service is not meant for usage on gambling and other chances like activities.
If you are just intending to test the skills of Master Chuan for the purpose of testing him, then you are advised to spend your time doing something more constructive. The reading will never be accurate if you have that kind of intention. This service is meant for people who have genuine questions and genuine problems. It is extended at this price for a right purpose. So do not waste each others time and money by doing something stupid.
When your payment is completed, you will be brought to a new page, there will be a form to fill in your questions and birth date and time details and comments on your question.
Please note, the birth time is critical in the analysis and you will need to state your place of birth too.
For Voice Recording, the file format will be in Mp3 and you can download and save the files.
For Video Recording, a link will be given and you can only view the video online. As the file for the reading can be rather huge to be sent across to you in full, viewing it online is the only way right now.
If you are using credit cards to pay, Click on the icon below and a new page will appear. In the new page (like the thumbnail below) click on the word "continue" (the word circled in red in the thumbnail below) near the left bottom side of the page, you will then able to make payments with your credit cards.
Promotional Four Pillar Analysis with Voice Recording only
SGD$68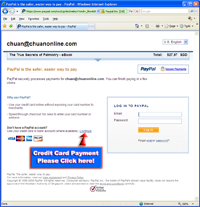 __________________________________________________________________________________
Promotional Four Pillar Analysis with Video Recording
SGD$88
---
Calculate your Four Pillar using this calculator



© Copyright 2013www.chuanonline.com Palmistry diagram | Palmistry | Palm Reading